Monday, December 7, 2009 at 12:00PM
I hate shaving.
I hate it and yet I have a fear of pain so I'm never going to get that laser hair removal.
I was given a sample of something that made shaving a little easier...especially in the bikini area.
Meet my razors new friend: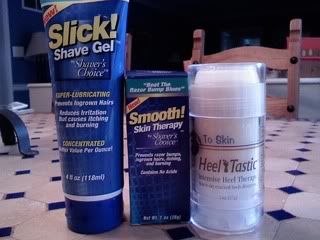 Shaver's Choice left my skin smooth and no bumps!
Shaver's Choice Slick! Shave Gel and Smooth Skin Therapy deliver a one-two punch to the bumps. You know, those little red bumps you get from ingrown hairs that not only look bad, but can itch. It made my legs feel really smooth and I didn't get one nick...even on my knees!
A little goes a long way
The gel was easy to apply and I used about a quarter-sized amount. It did not have any strong odor (either masculine or feminine) and at just $7 a tube this product is affordable when you consider it should last for 100 shaves.
Heel-Tastic made my heels sweet!
My feet get very dry and itchy in the winter so I was actually really excited that this package came with Heel-Tastic. Despite the goofy name, this stuff was serious when it cam time to smoothing my dry, cracked heels...even the first night. I did use it and then sleep with my socks on so that might have helped some. It has a wonderful, herbal smell and as I'm rubbing it into my feet, if I close my eyes and put on new-age music I can almost picture someone else rubbing my feet at a spa. Almost.
Pros and Cons also known as Twofer Thumbs Up or Down...
Thumbs Up: Products are either Low-odor (great gift for men or women) or have a very pleasant smell
Thumbs Up: Reasonably priced and all products seem to last an extended amount of time
Thumbs Up: All products seem to do what they claim to do. Shaving was easy and painless, no red bumps, and I started to see results on my heels the first day!
Down: Not great for travel - you'd have to put gel into a 2oz container and not sure what they would say about Heel-Tastic balm. That might be ok.
Down: Not sure these products are all-natural so if that's important to you read the packaging very carefully.
For more information and to purchase these products visit: http://shaverschoice.com
Happy shaving!
Janine
Sample product provided by Shaver's Choice at no cost. All views and opinions with regard to the product or company are my own and are not influenced, nor reviewed by the company prior to posting.
tagged
personal product,
shaving
in
product review