Monday, January 31, 2011 at 04:24PM
Movie night is a great winter activity, even during the day
Actually, movie night has slowly turned into movie day as the weather has turned ugly, schools have closed, and the power has gone out. I was excited to have the new movie, "Alpha and Omega
" for the Twofer to see this past weekend.
Both girls love animals and have seen commercials for this movie. They were really excited to watch it.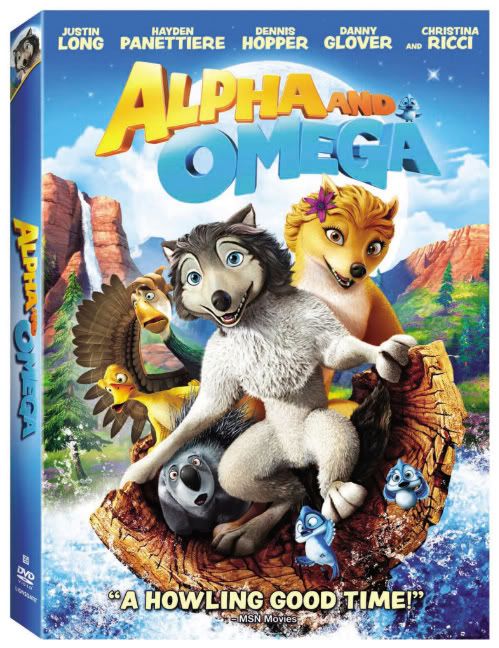 Twofer Thumbs Up for "Alpha and Omega"
"Alpha and Omega
" is one part animal adventure, one part love story, with some "from the wrong side of the tracks" thrown in.
Alpha refers to the head wolf pack, and Omega is, well, not the head. In terms of kids you could say Alpha are the popular rich kids and the Omegas are everyone else. Two Alphas are committed to each other to bring their packs together so they wll be safe (from each other) and able to maintain their territory.
Problems arise when the she-Alpha who is about to get 'married', and a he-Omega are taken away by humans. Feelings are hurt, honor must be protected, yet Alphas and Omegas are falling in love all over the place! Will they be allowed to stay together? Will the lost couple ever get home?
I have no idea if the girls picked up on everything but I did hear LOTS of laughing and giggling so I know they enjoyed it.
Get "Alpha and Omega" and Get $50 off Great Wolf Lodge!
For a limited time, certain packages of the "Alpha and Omega
" DVD are specially marked with coupons right on them worth $50 toward your next Great Wolf Lodge stay!
ENTER HERE to win one!
I'm giving away an "Alpha and Omega" DVD with the $50 coupon to Great Wolf Lodge to one of my lucky readers! You have up to 4 chances to win!
1. Leave a comment telling me who you want to watch the movie with
2. Tweet a link to this giveaway (leave another comment with link to that tweet - click on the time to get the unique URL)
3. Subscribe to TwoferMom via email (one more comment)
4. Add the TwoferMom button to your blog or website (again, another comment with link)
Contest open to residents of US & Canada who are 18 and over and ends Friday 2/11/11 at 11:59 pm ET. Winner will be chosen using Random.org, notified via email, and has 48 hours to respond before a new winner is chosen.
I recently had the chance to stay at a Great Wolf Lodge when I went to Texas to learn more about Cooking Matters. I did not get to play in the water park but I was blown away by what I saw from the lobby.
We are about to get hit again and I can definitely say the warm water playground of Great Wolf Lodge is sounding a lot better than our dark, cold family room!
Enjoy the movie and enjoy the coupon!
Janine
Disclosure: I received a copy of the "Alpha and Omega" DVD with coupon at no charge as a thank you for sharing this information. All opinions of the movie in this case are my kids' (and my own) and this post was neither revewied nor approved prior to being published. Some links are affiliate links. My stay at Great Wolf Lodge was part of a the ConAgra Food Foundation Cooking Matters campaign.
tagged
Alpha and Omega,
Great Wolf Lodge,
coupon,
review
in
coupon,
movie