Monday, February 1, 2010 at 09:00AM
One of my friends recently invited me to an e.l.f. #muah party at her house where I got to sample a ton of products from their three lines (e.l.f., Minerals & Studio).
Now, I'm not a big makeup person. I wear powder and mascara most days. But the times I do dress up, it will be nice to now know HOW to apply makeup correctly (thank you E.L.F.!) and to have GOOD makeup that works well on my skin.
What I learned in photos:
1. e.l.f. stands for eyes lips face and they have three different lines that work wonders on all our little imperfections
2. Applied correctly, three shadows are better than one. And at just $3 a piece, I can afford to buy the three shadows below that I used from the Mineral line of e.l.f.
3. Friends make sampling makeup so much more fun
4. e.l.f and speficially my new friends @askelf @eyeslipsface and @TedRubin are VERY easy to get in touch with, are very responsive when it comes to questions or suggestions, and are VERY generous.
After the party I was thinking of these Mother's Day gift baskets my neighborhood (you know, my wonderful neighborhood I love) puts together for the moms who have children at NIH. I asked if e.l.f. would be willing to donate some samples that we can include in the gift bags.
Their response? I got 2 large fishbowls filled with makeup withing days of asking!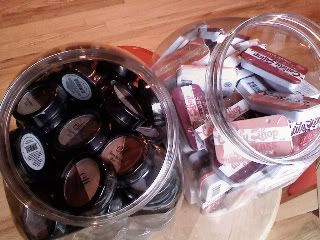 So, e.l.f. is definitely getting Twofer Thumbs Up from me for being a company that cares about my skin, my budget, and other people.
Try e.l.f. today and let me know what you think!
Janine
Disclosure: sample products provided by eyeslipsface at no cost and this review is not related to, nor was a requirement for my participation in the #muah party. The company did not review this post prior to publishing...or, even after that I know of! Unless of course they leave a comment, which they are welcome to do. And now I'm getting all wordy in this disclosure but whatevs...it's my blog and just note I often write about things because I simply like them. Thankyouverymuch.
tagged
beauty,
event,
fashion
in
event,
product review