Wednesday, October 28, 2009 at 10:00AM
**WINNER**
Congratulations Amanda! Enjoy your popcorn...it goes fast!
_____________________________________
A popcorn prize you won't want to share
I usually wait until the end of a post to show you what you have a chance of winning...
but I could hardly wait to open and eat my own 2-gallon tin of this yummy, sticky-sweet, salty, cheesy, and downright naughty package of goodness.
And so, may I present... Food Porn:
The Popcorn Factory tri-fecta of goodnessOh yeah. It's that good.
So good I have to hide it every night from my entire family (even from myself) so that it might last long enough for me to snap the photo and write this post!
Celebrate National Popcorn Month and 30 Years for The Popcorn Factory
For 30 years The Popcorn Factory has been delivering treats to businesses and families because really, who doesn't like popcorn? They sent me a 2-gallon trifecta of regular, cheese, and caramel popcorn that has been nothing short of addictive.
Now they are celebrating with a 30 Gift Giveaway sweepstakes where you can enter to win one of three prizes including the chance to give 30 gifts to your family (2 for me, one for them), friends and associates.
Win a 2-gallon Tin of Popcorn from TwoferMom!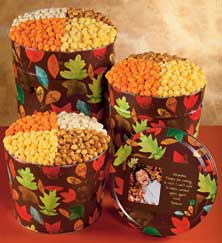 Tin of popcorn makes a great holiday gift
I totally heard that squeel! I know my descriptive writing and photo already had your mouth watering. But now you can enter to win your own 2-gallon tin of regular, cheese, and caramel crack popcorn.
All you have to do is:
1. Subscribe to TwoferMom.com
2. Leave a comment telling me if there is anyone on this green Earth you might consider sharing it with.
Extra Entries (leave separate comment for each)

Follow @TwoferMom on Twitter
Tweet a link to this giveaway on Twitter (Win a 2-gallon tin of popcorn from @TwoferMom)
Post a link to this giveaway on Facebook
Email your friends/famil and tell them how cool my blog is and include link to this giveaway and cc me (scarytwins [at] yahoo [dot] com)
Contest ends November 11, 2009 at 11:59pm. Winner will be chosen by me and Random.org. I will collect the comments that I find the funniest and enter them into random drawing. How's that for shakin it up?
Now back to munching on popcorn,
Janine
Sample product provided by The Popcorn Factory at no cost.
All views and opinions with regard to the product or company are my own and are not influenced, nor reviewed my the company prior to posting.