Tuesday, April 12, 2011 at 09:00AM
Fun and Functional Storage Solutions from Scout
Some of you may have never heard of Scout brand bins and totes and for this post, you will thank me.
You. Are. Welcome.
Scout is a brand developed by Bungalow (their Twitter is @scoutbybungalow ) in answer to the question,
"Why can't I find a fun, colorful, sturdy yet stylish tote bag?"
Thus the Deano Tote Bag was born. The Deano eventually got married to a box and they had babies and named them Mighta Bin and Hang-10 Bin.
Hang-10 Bin in Navy Jones
What I love about Scout bins and totes:
(Note: these are in no particular order. Not sure why I had to point that out I just felt like I did.)
1. Many (most?) are splash resistant and in fact, you clean them by hosing them down!
2. The fabric is sturdy yet very lightweight and some of my friends have been known to pack totes and bins in the bottom of their suitcase to keep things organized on vacation!
3. COLOR COLOR COLOR and fun patterns and such cute designs bin and...
4. Scout bins and totes make my clutter look pretty!
5. Affordable storage! (bins start at less than $20 and totes start at less than $30) Just ask my friend Linsday who had a "bintervention" on the Nate Berkus show.
Artisans Gallery has the largest selection of Scout products (both online and in-store)
Artisans Gallery is the most incredible gift shop ever. This gem has managed to not only thrive, but EXPAND their business in what many people refer to as "this economy". How? Good thing my friend @Jodifur asked during the blogger preview!
Artisans has a loyal customer base that they serve both in the store and online. I have found gifts at Artisans for women, kids but also for men! Of course I always find a little something for me too.
Coupon Code for Scout and more valid at Artisans online and in store!
Now through April 22, 2011 you can get 15% off of EVERYTHING by using
Code: ART15 when you check out!
Shop online at Artisans or visit their store in Maryland.
ALSO
Shipping is FREE for online orders over $60 (and just $6.99 for orders under
Some ideas of who you may be browsing for:
Teachers
Coaches
Yoga insructor
Kids birthdays
Mother's Day
Father's Day
I've-had-a-helluva-day
You get the idea. And if you don't I have a few photos of some of the goodies Artisans sells in addition to a huge Scout collection.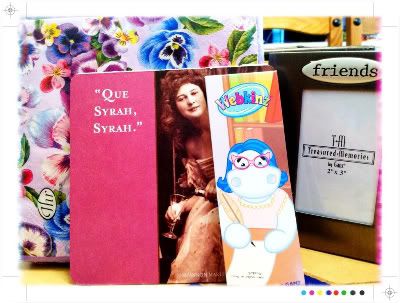 Above: coctail napkins, paper coasters, Friends frame, and Webkinz magnetic bookmark
Above: veggie dip, caramel coffee, mulling spices, fun pyramid tea, and the best darn pecan praline this side of the Mississippi!
Above: bracelet made with paper beads that support women-owned businesses in Africa, yummy smelling soap and candle, fancy nail file, and my favorite brand of lotion, Thymes.
Janine
Disclosure: I participated in a blogger Scout preview event at Artisans. I received good bags of product as a thank you for coming to the event. I also purchased product at the event. Since I like long disclosures I will tell you what I bought but you have to promise not to tell the girls! I bought my mom a tote and the girls each got a bag (waterproof YAY) to use at the pool this summer. Can't wait to show you! Also, all opinions are my own and this post was neither approved nor reviewed prior to being published.