Wednesday, September 8, 2010 at 10:50AM
We have finally figured out a way to provide some quiet study space for homework and keep twin eyes on their on work. Ladies and Gentlemen, may I present to you, the DIY study carrel: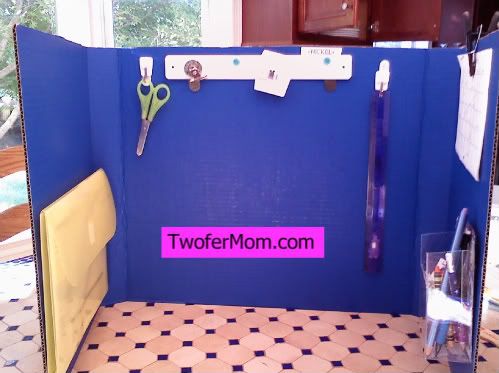 This nifty project was not only fun, it will help the girls focus on their own work.
Create your own study carrel
I first saw this project on the Disney website. Since I'm all about reusing now, I started looking around the house for materials we already had. I grabbed some clear plastic boxes I had saved this year (chocolate bunnies from Easter I believe) and cut off the top, then lined the inside with a cute image.
I taped the image just lightly to the back of the box so we can swap it out for something new or seasonal whenever we want
We loved the blue in the Disney sample so we purchased a similar blue tri-fold presentation board
but you can get them in all different colors. We cut the board in half to make two study carrels. Then I scrounged around and found some foam mounting squares
, Command hooks
, and self-stick Velcro
to attach all the necessary items:
pencil holder (the clear box)
magnet strip (this came from Ikea)
ruler
clear plastic folder to hold week-long assignments
calendar
I cut up some plastic packaging the erasers came in to create a smaller container and used velcro to attach the pencil box so that we can take it off to change the image.
Homework Time Made Easier
With all the drama we has last year, I'm not quite sure why I didn't search for something like this sooner. These study carrels can fold up easily, and used on a table or even on the living room floor. The storage boxes means I'm not search around the house for pencils and erasers and glue. And the folder keeps weekly assignments like spelling lists in a safe place.
Dare I say the love homework time now? And I'm earning my crafty mom badge!
Janine
for more of my attempts at crafting see:
Crafty Crafters playdate frames
Disclosure: some links are affiliate links.