Thursday, November 11, 2010 at 03:12PM
Invest in a Memory Book for Long Term Memories
Where do you store all the school papers and artwork that comes home? How much of it do you really decide to keep?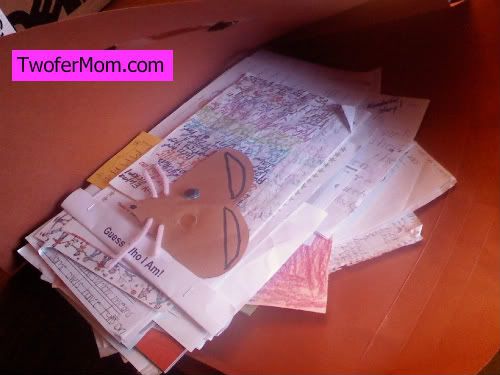 For me, I weed through the junk and keep only the best parts so that in years to come I have evidence that my kid was (at one point) a genius. Then I stack it in some kind of art portfolio to deal with at a later date. I'm great with procrastinating. Well eventually the piles catch up to you and you are forced to find a place to keep these Long Term.
The Best Place to Store School Papers is a Book
Our school has a fundraiser called, Art to Remember. With Art to Remember your child's artwork can be printed on any number of keepsake items including aprons, key chains, mugs, mouse pads, and more. I decided to kill two, no wait three birds with one stone! I order their special image on the Art to Remember Memory Scrapbook.
This helps raise money for the PTA, it gives me a place to store all that schoolwork, AND it frees up my cabinet from getting one more mug! The pages are acid-free which helps to preserve the artwork, and it forces me to limit what I keep to 30 pages (front and back so I guess 60).
Tips for Your School Year Memory Scrapbook
Here's what I have learned after completing just one year for the Twofer. I now have to get first grade done before we actually finish second grade! Progress, not perfection.
1. Date everything when it comes home - makes it much easier to assemble in chronological order if you, um have the chronology done.
2. Make sure each piece has a name - this is important if you have more than one child. It also helps avoid including projects random kids in the class to your child's book because inevitably they'll come home with someone else's work.
3. Don't be afraid to fold or cut around larger projects -Some of the cutest things seem too big to put into the book but as long as part of it is secured, I have found that folding them up to fit with the book closed works fine.
4. Get really good Glue Dots
or Glue Pen
- you want glue that won't damage the project or photos but that will keep it in place.
5. Use envelopes for projects that are small and have lots of parts or pages.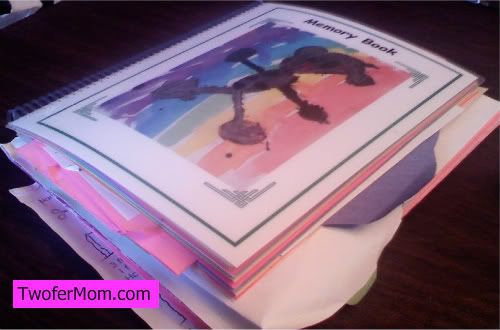 This method is not, however, completely clutter-proof. The girls will one day have, what, 12 of these books to take with them when they move out. So...that's 24 of these books I'll be storing? Maybe we have something digital by then.
Scrapbookingly yours,
Janine