Wednesday, January 20, 2010 at 10:00AM
I was reading The Huffington Post and saw this before and after photo from People Magazine of Heidi Montag.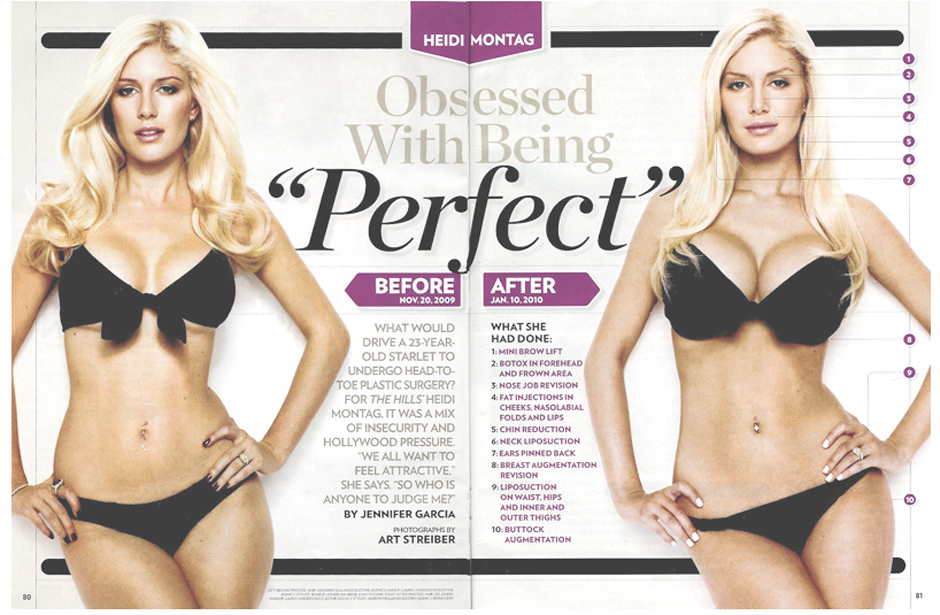 People Magazine photo from Huffington Post
Heidi apparently opens up in People about her addiction to plastic surgery.
She KNOWS she has a problem.
Her family knows she has a problem.
And now the world knows she has a problem with trying to achieve perfection and yet she can't stop.
It's no longer a need to be beautiful - she WAS beautiful. She is now verging on freakish and I'm guessing the need is to fill some other void she has.
How does a girl with her looks, a hit TV show, fame, love and money suffer from such incredible insecurity?
What went wrong in her life that she couldn't ignor the hurtful comments she received when she first hit the Hollywood scene?
And, most importantly...
What could her parents have done to help her before it came to this?
If you have any insight, let me know.
Janine
tagged
Heidi Montag,
neuroses,
plastic surgery,
raising girls
in
parenting
Email Article