Monday, July 26, 2010 at 09:00AM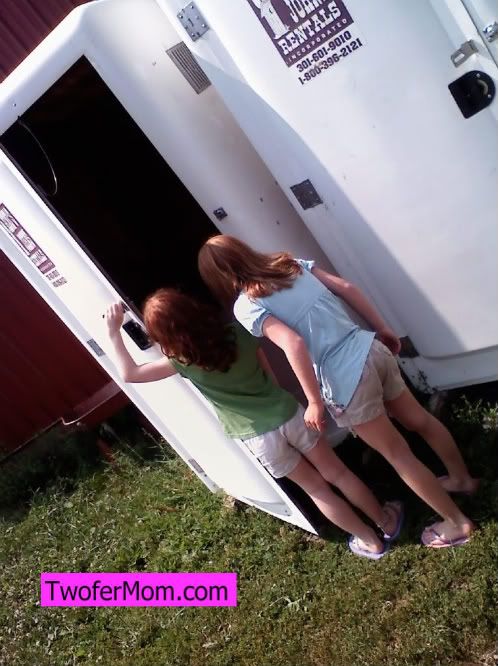 First, let me just say this:
"AAAAAHHHHHHGGGGGGGGGGG!!!!!!!!"

The photo alone makes me itch and want to bathe.
I HATE those things.
I would rather go in the woods, in a cup, ANYWHERE but in there.
My neuroses are kicking in BIG TIME because this week The Twofer are at Girl Scout Camp where all they have are THOSE THINGS!
They have NEVER, ever, ever used one. They are seven (7) <--- seven! And I have somewhat proudly kept them away. I just couldn't deal with it.
The smell, the pee everywhere, the thought of them falling in! Do you know where their underwear touches when they sit on a public toilet? It touches the very front part of the toilet where all the pee is! Do you know what that part is like in one of those white pee boxes?
Good God this is killing me just to write it.
If you are like me, here are a few tips for teaching your girl how to use a port-o-potty so that at least you can sleep at night.
1. Practice
Start working on the chosen 'stance' at home on your own toilet, then while you are out at the mall, then finally, in one of the real things.
2. Stance
My personal fave is the football stance which looks similar to this
image via The Free Dictionary
...except that the person is standing upright and the hand going out is holding onto the door and the foot going back is pressing on the back wall of the potty for balance.
For little girls, however, you are best sticking with the hover stance, or squat...

image via Strenua Strength and Vigor
where you hover over the potty seat and hold onto the door (or one hand on the toilet paper roll on the side) for balance.
3. Paper, and lots of it!
The Twofer have been taught the proper papering techniques for covering toilet seats. They are skilled in not just tearing off the right amount, but in layering it and covering the ENTIRE seat, even hanging off the edges a bit (especially in the front where their undies might touch) for maximum coverage.
4. Sanitizer - wipes, spray, gel, whatever you got
I'll be packing an arsenal of anti-bacterial stuff so they can wipe it down before they layer and squat. Will they actually use it? I have no idea, but in my own mind I will feel better. And that leads me to the 5th and final tip...
5. Trick your mind or Let it Go
All of the training and the precautions I can take are no guarantee The Twofer will incorporate any of them into their daily visit to the port-o-potty this week at camp. Also, I'm trying to 'coach' them with subtlty and not drama as I don't want them to adopt my fear of germs and other people's pee. The reality - I will show them the stance once (they've already said it's stupid), give them the wipes, and tell them at the very least to put down some TP on the seat cover.
Then I will close my eyes and ears and sing La la la la la because in the end, I have to let it go. As far as I know, no one died from sitting on someone else's pee.
{hold me}
Janine