Wednesday, October 27, 2010 at 09:00AM
Getting Boo-ed is becoming a neighborhood tradition
Every year around a week before Halloween we get boo-ed. Our doorbell rings when it's dark outside, and we open it to find a package with a ghost and a poem.
And this is what what in it (minus the chocolate pumkins which didn't last 2 minutes.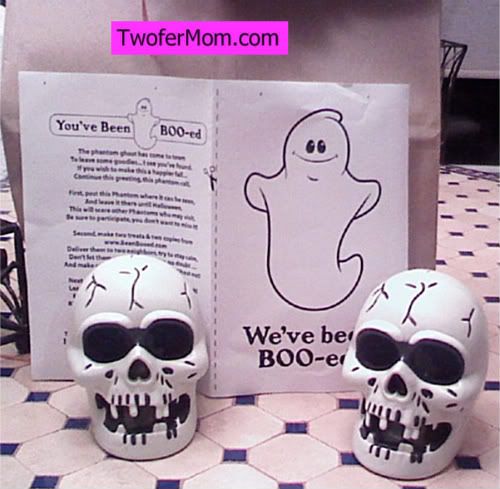 We have officially been boo-ed!
Once boo-ed, you place the ghost on your door to let others know that you've already been boo-ed.
The challenge is then to find someone else in the neighborhood who does not have the ghost, and boo them without them knowing who did it.
Apparently the Twofer took it upon themselves to boo some neighbors the other day and we had not yet been boo-ed. I think I saw them drawing a picture of a ghost and getting together a bag of candy. I suppose I now know what they were doing with it.
Though now we have the real thing and we must get together a little Halloween package and pick our victim.
In the past The Mister has taken this very seriously and had the girls dress in all black...
This year, I think we'll try a different approach so as not to promote, you know, whatever dressing up in black and sneaking around the neighborhood might promote.
I think we'll take a cue from our caroling, ring the doorbell and sing, "You've been boo-ed!
Or not.
For more information and to print out a Boo-ed poem visit http://www.beenbooed.com/.
Does your neighborhood Boo?
Janine