Thursday, December 16, 2010 at 10:24PM
I was thrilled to find a pair of really cute and warm winter Khombu boots
for Em at Marshalls the other day.
They look like this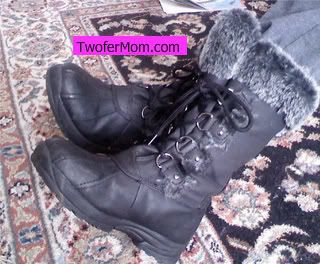 They look really cute with jeans or a skirt and leggings, AND they keep her warm running around with her snowpants! They are fashionable and functional.
I decided to find some fashionable and functional snow boots for women and since I had success with Khombu for Em, I figured I'd start there. WOW!
How about these?
Khombu suede lace ups are way cute and waterproof!
These Khombu Women's suede and fabric lace up
boots ride high to keep your legs warm and are waterproof so you can trudge through any snowbank with style!
Or how about these?
Winter boots like this don't have to be bulky
Khombu Women's Denver Waterproof Boots
have a sleek look and cute side-buckle that would look great with a skirt or jeans.
And then there is my personal fave...
These Khombu boots will make you yearn for snow!
Khombu Women's Solar 2 Waterproof Boot
I love the height, and the cozy lining spilling out over the edges too. These would look fabulous in the ski lodge, no?
Why are all the boots I chose tall? Khombu has lots of cute short boots but as a mom of kids who walk to school, I like to have the extra coverage of a taller boot. I also have a longer coat! But that's another Fashion Friday post.
Stay warm and please share your favorite and fashionable winter wear!
Janine
Disclosure - I have no affiliation with Khombu I was just really impressed with their line of boots. Some links are affiliate links.