Wednesday, March 9, 2011 at 11:08AM
Harry Potter is all around me.
Actually, HE is now a SHE and we call HER Harriet Potter.
We discuss all things wizard and wonderful these days.
There is an entire library dedicated to "Care of Magical Creatures", "Defense Against the Dark Arts", and "Herbology" in one of our guest rooms.
There is talk of getting an owl for a pet... instead of a dog.
And I find letters from Professor McGonagall and Dumbledore hidden in places.
Enough is Enough Mr. Potter!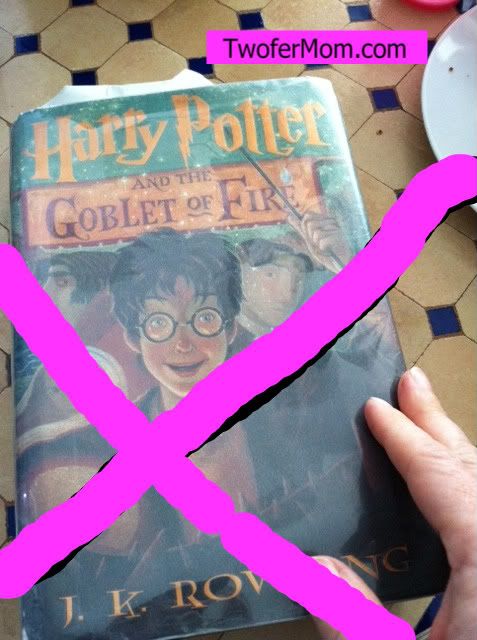 I finally had to put the kabash on the books...for now. I said, "Let's take a break before reading #4".
My concern was that the books get darker, and a little more mature (some teen dating stuff). My concern was the BIG let-down you get when you plow through a series so quickly (she's reading 1 a week - I swear!). My big idea was to find another series we could read during this 'break'.
There was much whining.
There were daily questions, "Can I read it NOW???"
Then one day book 4, "Harry Potter and the Goblet of Fire" came home from the school library.
And then it occurred to me...
How can I BAN a book?
How can I put the kabash on something that has encouraged so much imaginative play, so much independent reading?
I can't.
The fact is, Harry Potter is PERFECT for this age. It plays right into a child's excitement over secrets, good versus evil, and magic. It's easy and fun to act out the characters and scenes. Plus, it gives "us" a good excuse to speak in a British accent.
Bottom line: You can keep the book away from the girl, but you can't keep the girl away from the library - or the book. And probably I shouldn't even try.
Janine
tagged
Harry Potter,
books,
imagination
in
neuroses,
parenting
Email Article