Wednesday, May 25, 2011 at 09:00AM
I'm no Tony Bourdain but I do consider myself an adventurous eater.
I've done some traveling in my time.
I've eaten giraffe in Kenya, an unkown street food in Malaysia, and maybe even more daring... beef tongue. (The thought of french kissing a cow crossed my mind more than once but I got it down and chased it with vodka like any good Russian would do. Consequently - I was in a Russian resaurant at the time - in Baltimore.)
All that said, I don't like to mess too much with my pizza.
Most definitely NO fruit (sorry you ham & pineapple crazies).
So the thought of putting Bumble Bee tuna on a pizza was definitely a challenging one for me.
The fact is, I'm a big baby.
Because not only is this recipe REALLY EASY, it's REALLY GOOD and made me feel like a real gourmet!
Mediterranean Tuna Pizza
Buy or make a pizza crust. I have done both and my theory is - some people are just not good at making their own pizza crust.
Then top with the following ingredients:
1 can of Bumble Bee Tonno in Oil
1-2 strips of Prosciutto torn into smaller pieces
Feta cheese
fresh tomato slices
Mozzarella cheese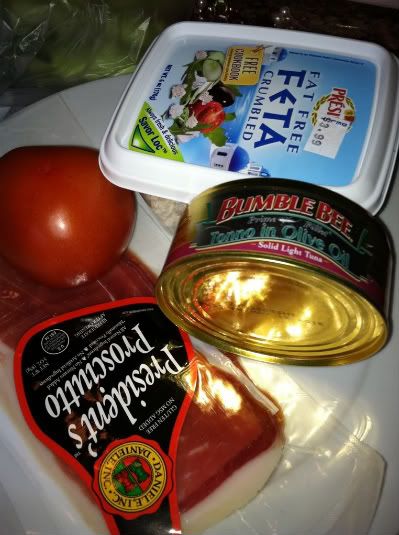 Brush the pizza crust with olive oil and spread the toppings evenly across reserving the mozzarella cheese for last. You can add red pepper flakes too.
Place into over and follow pizza crust baking instructions - but usually it's about 10-15 minutes.
Mine looked like this
and it was truly delicious! Everyone had a slice if not two.
So yes, you CAN have tuna on pizza as well as on a few other surprising things.
For more great Bumble Bee recipes visit BumbleBee.com then let me know what you are going to make!
Janine
Disclosure: As a member of the Bee Squad Bumble Bee is my official sponsor to attend the BlogHer 11 conference. I have received a box of product for my family to use as we explore the Bumble Bee line of products and document the experience here. I may at some point offer a giveaway and that product will be supplied at not cost to me.
tagged
Bee Squad,
Bumble Bee tuna,
cooking,
food,
pizza
in
food
Email Article