Friday, October 8, 2010 at 04:42PM
A few weeks ago I told you how surprised I was that The Mister actually knew what Jimmy Choo shoes were. Everyone wanted to know what was in that box! So, I've decided to show you in a quick post that also highlights the shoes I love to wear all summer long. (Relax boys, it's only 3 pairs so you can get through this post).
The Choos
These are hand-died slip-ons with a kitten heel and I love them. They are comfy, unique, colorful, and fun.
The flipflops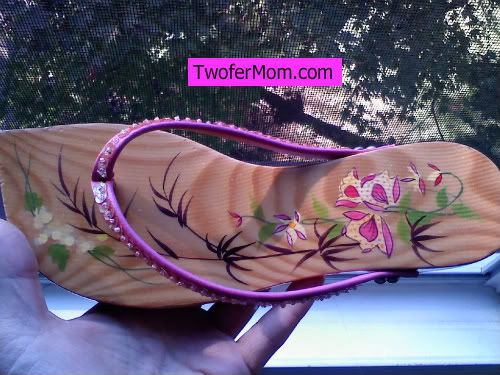 These I found at the Jersey Shore and they are solid wood which means they are actually pretty comfortable. Though the strap sometimes rubs - some of you may have seen me limping after day 1 of BlogHer parties!
The FIT Flops
I wear FitFlops
EVERY SINGLE DAY in the Summer and while they are supposed to work your muscles more, I love them because I can walk forever and my feet don't hurt. I can walk through a Disney park and my feet never get tired! You Disney people know exactly what I mean.
(YES - I totally added pink dots to look like nail polish on this photo.)
Janine
Disclosure: all opinions expersses are my own and I was not given any of these shoes. Some links are affiliate links.
Other Fashion Posts you might like:
Taking a cue from Wonder Woman