Friday, September 17, 2010 at 10:46PM
Girls Like SHOES
Just one reason my house is a mess.
There are shoes by the front door, by the back door, in the kitchen, in the family room, in the bathroom and in the mudroom.
The mudroom is where I want the shoes to live. I like them to live on this bench: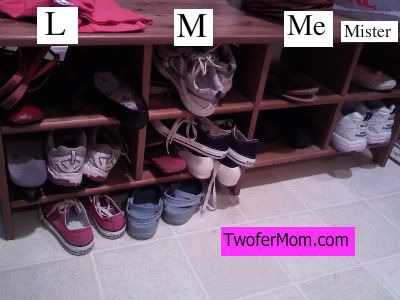 The problem is that this bench can't possibly hold all the shoes. The left 2 sections of the bench are for El and Em and you can see it is overflowing.
Because this is how many shoes they actually have: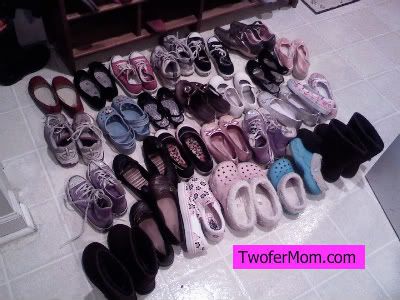 And notice this does not include winter boots, rain boots, riding boots and the 8 pairs of flipflops!
Where do we keep all of their shoes when we clean up the front door, the back door, the kitchen, the family room , and the mudroom?
In those nifty drawers that came with my Frigidaire affinity washer and dryer set!
pedestal drawers of Frigidaire washer and dryer hold shoes too
Because who needs to store laundry detergent when we only do laundry once a week because the twins have so many clothes? But that's another post.
Janine