Monday, September 20, 2010 at 09:01AM
Disney has a few new toys out on the market that come in pairs. THIS is a good thing for us. Toys that come in twos make life easier. Even better? I won TWO sets of the toys at the Dinner with Disney event I went to last week! A first for all of us.
New Disney Pairs
Pook-a-looz
are the cutest little creatures ever to leave the Disney store. They will lift any ban you may have imposed on new stuffed animals. They are soft, cuddly, and just too darn cute. As part of our Disner with Disney gift bag we got....Chip and Dale! Perfect for a twin mom like me!
What else are they holding in that photo? Well, everyone loved the movie "The Princess and the Frog
", and most notable were the kissing frogs. We got to bring home this famous pair of frogs as they are about to be married complete with wedding veil, and magnetic lips that kiss! This pair of kissing frog is not yet available online - so head to Disney if you need to have them!
What do you do with two sets of two?
You can imagine the smiles I saw the morning they woke up to not one, but TWO gift baskets. What do you do with two sets of everything? Why, have a double wedding of course!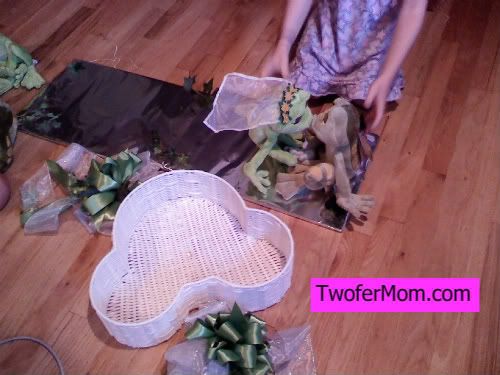 They even made use of the Mickey-shaped baskets for the dance floor and shiny display board.
This post is made possible by my Disney friends, Leanne (who is not only fun but very cool and who recently cut her hair - love it!), Laura (who is so fabulous I'm planning a GNO next time she's in DC so I can look fab standing next to her all night) Maria (who just happened to choose THE dress shop in DC to buy ner newest award gown and should be a travel writer...and adopt me), and Amy (who totally gets me, my humor, and still takes my calls)... all who had something to do with my being at the event but also drawing my name to bring home two gift baskets. THANK YOU!
Janine