Monday, March 22, 2010 at 09:00AM
Image courtesy of my sister-in-law
The folks at Disney have a way of making everyone feel special. And today I wanted to highlight some things that YOU can do to enhance your experience.
Here are 5 affordable ways to 'splurge' at Disney:
Disney Stroller
Disney is so magical that it is COMPLETELY ACCEPTABLE for 6, 7, and I bet we saw a few 8 year olds riding around in the Disney-issued-lightweight-turn-on-a-dime-no-kid-gets-tired-and-cranky strollers they have available to rent at all the parks.
The Mister actually tried to climb in the double one we got for our first trip last year (Twofer were 6) and we actually pushed him about 3 feet before falling on the ground laughing.
The strollers are $15 a day for a single, and $31 a day for a double (based on current pricing listed HERE). For many parents, this is a small investment to make to know your kids will last the day and into the night, with minimal whining.
Image courtesy of my sister-in-law
Starbucks Via
TM

... Guy Kawasaki

Alltop co-founder, father, Hawaiian-shirt-wearing Guy spoke to our group at the conference in February and while he said tons of great things about how to best use Twitter...this is what I remember most (without having to replay the video). He told us all about Starbucks VIA™ Ready Brew
and gave us each a free sample to try!
Now, we were all staying at 'The Poly' (the cool way of referring to The Polynesian) and I was grateful that my room had a little coffee maker and coffee thingys. But the sample of Starbuck's Via from Guy was exactly how I like my coffee. Full of flavor, and just as easy to make. I made the hot water in the coffee maker, and added it to my Via along with the creamer and sugar from the hotel. mmmmmm

Visit Disney on Your Birthday
You may know that we took The Twofer last year for their 6th birthday. Last year the promotion was Free on Your Birthday and while that may not be the case this year, you can still get all kinds of free stuff if you go to Disney on your birthday. Just be sure to TELL EVERYONE!
I can't guarantee you anything, but here are some of the things you might receive if you remember to tell the staff about the birthday boy/girl:
free "It's my Birthday" button (go to guest services booth at the park first thing)
free set of reusable Disney mugs and balloons in your room
autographed photo post-card of Mickey wishing you a magical celebration
extra or free dessert at a sit-down meal
small individual cake and birthday card at a character meal
extra attention from characters
Pop Century
We stayed here on our first trip and I've heard from several others that the Pop Century is the best of the Disney Value hotels. Why? The bus only stops maybe once on the way to most parks. It has great pools, and an arcade (perfect for those rainly days) as well as little performances put on by the staff. It may not be hula lessons like at the Poly but we saw a kid parade go by and other performances the few days we were there.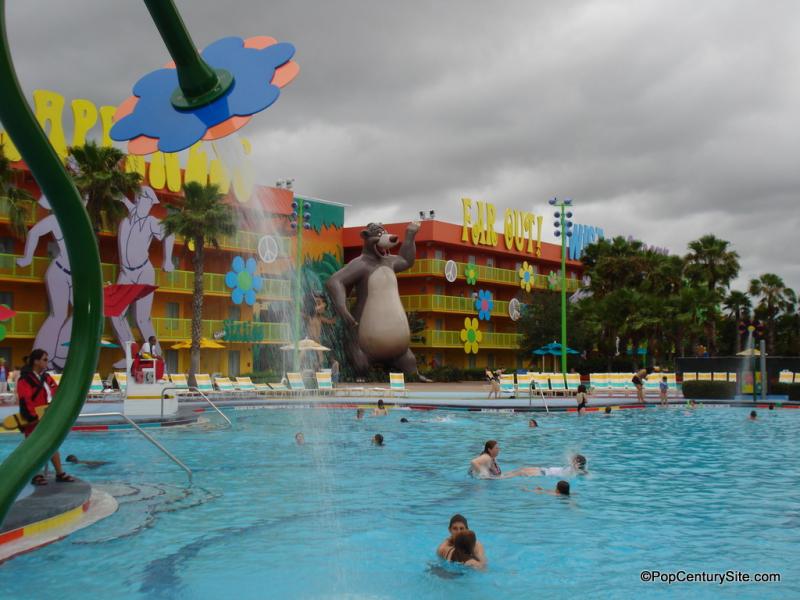 Image via PopCenturySite.com
Affordable Disney Florist
Most recently my brother took his kids to Disney for their first trip. They had a rough time getting down there because of a huge snow storm hitting the NY area. It was questionable whether they would make it at all! But once we knew they arrived safe and with plenty of fun ahead of them, my mom and I decided to make it truly magical and surprise them with a little something in their room from the Disney Florist.
We got them this gift for just $40.00!
Mickey's Kool Snack from Disney FloristYou can also take something like this and add Mickey Mitts or Ears for $10-$15. Be sure to ask a floral specialist when you call about customizing the gifts. Having a little surprise in your room is a great way to add a little extra magic.
nm
Janine
Want to read more about our experiences at Disney?
Twofer Get Surprised with Disney Trip
Help! Disney World questions...

Disclosure: My most recent trip to Disney was as an attendee of the Disney Social Media Moms conference where I received a discounted room rate, complimentary items, and access to special events including food and entertainment. All opinions are my own and were not reviewed nor approved by Disney prior to posting.