Wednesday, February 24, 2010 at 09:00AM
You just never know who you are going to see when you go to Disney.
Of course there are there are the usual suspects....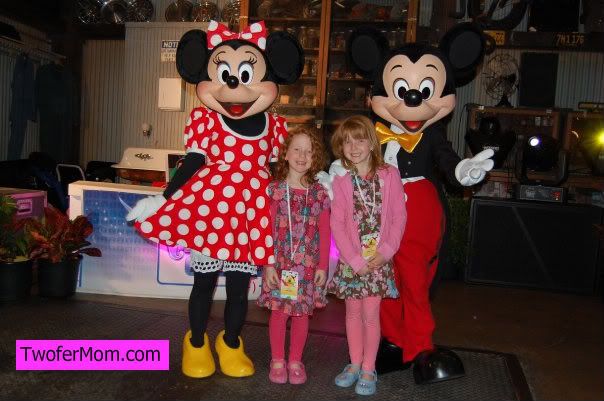 The Twofer with Mickey and Minnie at Hollywood Studios
And the Twofer were excited to meet the 'other' set of twins:
My twins with Disney twins Chip and Dale
But did you know I had the chance to meet and interview Kermit the Frog?
Kermit the Frog at Disney EPCOT
Of course I didn't know that interviewing Kermit meant I had to go behind the 'circle of truth' as I call it. One minute I was sitting with Kermit looking at my notes and then I looked up and saw a wall of people surrounding us! It looked something like this...
Then I realized...Kermit is a puppet! And I guess it would ruin the secret if everyone walking around Epcot that day saw the puppeteer with his hand, you know, up Kermit's....um...yea.
A blog friend of mine had the chance to meet and interview a few stars of Disney's Camp Rock!
And of course the highlight for our 6 year olds was the private mini concert with Joe Jonas and Demi Lovato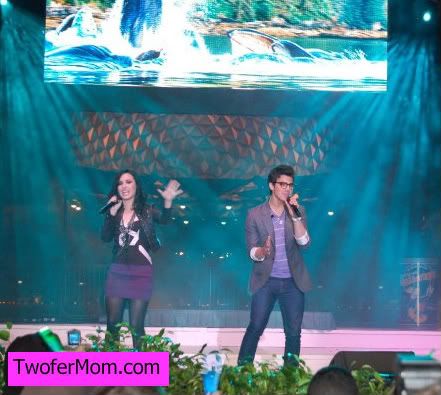 Have you seen anyone famous while at Disney? Did you get up close and personal?
Janine
For more from the Disney Social Media Moms trip see...
Disney makes everyone feel like a VIP
Follow me during the Disney Social Media Moms Conference
Disclosure: As an attendee of this conference I received a discounted room rate, complimentary items, and access to special events including food and entertainment. All opinions are my own and were not reviewed nor approved by Disney prior to posting.