Friday, August 27, 2010 at 10:15AM
You want to know THE SHOE all the kids have to have this season?
You've probably seen them around in every store, including Target.
If you shop online you'll notice things in red saying "Only 4 left".
May I present the ever-classic Converse Chuck Taylor All Star Sneakers
: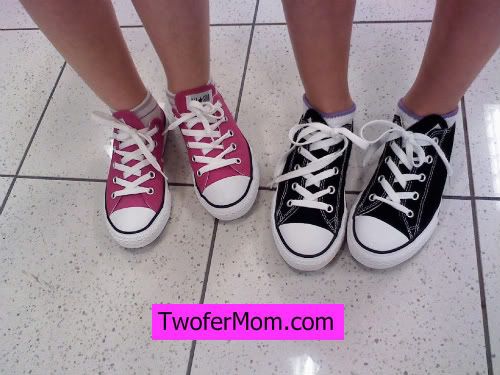 I am not sure when The Twofer became aware of them. Last Spring you'll remember they fell in love with the purple Sketchers Twinkle Toes. Somehow (inner fashion sense?) they knew these would be the thing to have.
They are classic.
They Come in a variety of colors (seriously,check out this rainbow of Converse Chucks
)
They are the perfect back-to-school shoe.
A Little on the WILD side
Of course what goes better with a classic shoe than a non-traditional backpack?
Bold prints
are in for backpacks this year and my kids were tuned in to this fashion trend before I even had a chance to crack open the cover of this season's The New York Times: Fashion of The Times.
Again, a quick search online and many animal print backpacks
are in limited supply so order one today if your daughter is pining for one!
What fun things did your kids ask for this year while shopping for school?
Janine
Disclosure: some links are affiliate links.