Monday, August 2, 2010 at 10:26AM
A few weeks ago we went to visit my neice and nephews. The Twofer were upstairs in my neice's room for quite a long time...with no yelling or refereeing on my part.
So of course I'm thinking...
something is wrong.
I went to check in on them and saw this...
Cue "ta-da" music.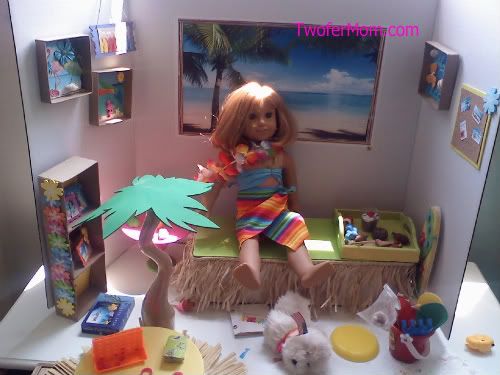 An American Girl beach party scene like no other I'd seen before! It had everything from grass skirts to surfboards to little mini game of Connect 4!
It turns out my neice made all of it at American Girl camp. As I took a closer look I realized I could definitely help The Twofer make some of these...being the crafty crafters they are.
Cut some images out of the catalog, frame them, and voila! You have decorations for the walls and bookshelf.
Do your girls love the American Girl food? Mine can't get enough. How easy would it be to make your own with some modeling clay that you can either bake or let dry in the sun?
Find a cute little flamingo party cup, cut off the top, glue a piece of painted cardboard and you have yourself a perfect beach party table!
The key is to use bright, "beachy" colors and invest in some serious Michael's shopping. Choose one or two of these projects for a birthday party, or rainy day activity. Or, if you are like my friend who runs her own camp (at home for her kids) you can plan to do the whole scene over a week. Let me know so I can send The Twofer to your camp!
Janine