Monday, October 8, 2012 at 02:16PM
We have a stuffed animal problem that grows every year when we go to the Jersey shore.
image credit lindr6580 via SXC
You see The Mister loves to play the claw games. And he loves to win stuffed animals for the girls.
The other day I posted on my Facebook wall that I cannot believe we are in the year 2012 and we STILL do not have a good solution for all those stuffed animals.
Friends commented and gave ideas and lo and behold I found a few solutions that don't involve the trash bin. One rule of thumb, ALWAYS clean the stuffed animals and only offer the ones that are gently used.
1. Make a Bean Bag Chair
Maybe you have an old duvet cover, blanket, or sheet set lying around and maybe you are handy with a sewing machine so that you can sew your own giant bean bag and fill it up with all the stuffed animals. But if not, don't fear. I found something on Amazon that can be use for Stuffed Animal Storage
and it has a clear panel so you can see all the animals you saved from the landfill!
2. Donate to an Animal Shelter
Someone suggested that an animal shelter might be able to use them in the animal crates as many animal rescue groups ask for old blankets and things. I reached out to our local Humane Society and got this response.
Hello Janine,

Thank you for thinking of the animals! If the toys are in fairly good condition, they could be donated to our thrift store, Wagging Tails, to be resold and raise funds for the humane society.
So, while they aren't going to give them to the animals, they will resell them and the money raised will help the animals.
3. Donate them to the local police who often give them to kids during domestic situations

I contacted our local county police through twitter and they replied that YES, infact they do take them!
4. Call every single shelter, food bank, and family assistance center - one of them will say yes
I assumed that just because one shelter I called didn't want used stuffed animal, None of them did. I figured it was a safety / health thing. I figured wrong. I contacted A Wider Circle as referred to me by my friend Julia at Forty Weeks. I've heard of A Wider Circle and I know friends that have donated furniture to them, but I did not consider they would take stuffed animals.
I received this reply to my email:
Hi Janine -

Thank you for asking. We can take these - and thank you for offering to wash them. That makes a big difference.

Best,
Mark
So, if you want to up your chances of a local charity or shelter taking your stuffed animals off your hands...offer to wash them. And then DO present them with clean ones.
5. Hold a Yard Sale or Use Freecycle
Now, in al honesty I've had no luck even GIVING away stuffed animals at my yard sale. Infact, the last time I actually insisted that if someone wants to make a purchase they had to take a stuffed animal with them.
I'm not kidding.
But other people have had success so I had to include it.
I HAVE had success with Freecycle and I encourage everyone to try it.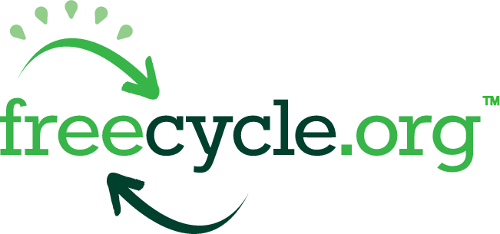 Go to Freecycle.org and search for a group in your area. Then read the rules and follow them before posting. I've been able to find new homes for things I would otherwise trash... broken fishing rods (yes, broken), old furniture, clothing, and more.
Have another idea? Leave a comment or a link to your ideas!
Janine