Monday, January 24, 2011 at 09:00AM
Last week I was invited to Dallas, Texas by the ConAgra Food Foundation and Share Our Strength for the purpose of learning more about hunger and what they are doing to make sure no kid in America grows up hungry.
I was shocked.
I was scared.
I was saddened.
But I left with a sense of hope, and of purpose.
I hope over the next few months to share what I have learned with you.
I hope it angers you.
I hope it scares you.
I hope it inspires you, as it did me.
Two Days in Texas Opened my Eyes Forever
In 2008 the North Texas Food Bank had the goal to double their business. As the director Jan Pruitt said, "Do you know any other business in 2008 that had a goal of doubling?" Their mission is to 'fill the gap' between the amount of food families are getting versus what they need. The mission was 50 million meals by 2011.
Who are those 50 million?
The New Face of Hunger
We saw a video with a single dad who was working in his father's saddle shop. He was highly educated with a degree in finance, maybe even his masters. But as with many others, the economy and mortgage industry took a turn for the worse and took his financial security with it.

He has a job.
He grows his own vegetables.
He gets help monthly from a food pantry stocked by the North Texas Food Bank.
Photo courtesy of No Kid Hungry & Share Our Strength
We learned about new multi-generational families. Grandparents are raising grandkids. Sometimes this means the entire family has moved in due to economic stress. Sometimes the middle generation simply doesn't exist.


Hunger Scares Me
Hunger can happen to anyone. These days all it takes is one small shift to start the downward spiral. All of us are at risk. What if my husband hurt himself? How long would short term disability last? Then what?
The panic set it.
And then I got angry.
Hunger Angers Me
Jan Pruitt, the director of the North Texas Food Bank explained, "It's not that the United States doesn't have enough food. We have enough food."
So why isn't all of this food getting to where it's needed?
Why are only 38% of the eligible people getting food stamps and what is happening to the money for the remaining 62%? Is it just sitting there?
Why are so many kids hungry in the United States in the year 2010?
HOPE
Organizations like Share Our Strength and the companies like ConAgra that support them offer hope. They have programs that are working. Cooking Matters is the program we focused on and I can't wait to share everything I learned with you.
Over the next few months I am going to see first-hand some of the local food pantry customers and take a Cooking Matters class. I know in my own hometown I've read articles about the surge in food pantry customers who are new, have never had to ask for help, and more shocking...they have jobs. Often white-collar jobs.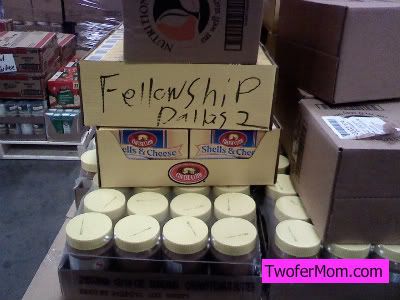 Do you know what is going on in your town?
Important Links
North Texas Food Bank website and Twitter @ntfb
ConAgra Food's Foundation website and ConAgra on Twitter
Share our Strength's No Kid Hungry website , on Facebook, and @ShareStrength on Twitter

Cooking Matters website and @CookingMatters on Twitter
Janine
Disclosure: ConAgra and Share our Strength paid for my trip to Texas and I will receive a stipend for my work helping to tell the story and promote Cooking Matters. As always, all opinions and experiences are my own and this post was neither reviewed nor approved prior to posting.