Wednesday, August 25, 2010 at 09:30AM
You know that friend who always sends your kids home from a playdate with cookies and fun crafts they made?
I am not that friend.
I don't craft.
I don't really bake either.
The Crafter in Me
I have craft things around the house because at one time or another I have...
tried to make Scultpy beads (could never layer it right to get those cool swirl designs)
made my own jewelry (always falls apart)
had the urge to scrapbook (that urge dies as soon as I realize I have to organize the photos first)
I also have children and The Twofer have always been big on 'projects'. See? We even refer to crafts as 'projects' around here because of the amount of work it seems like goes into it all.
That said, my friend who is the craftiest of crafters (to the point where she has created a little business making beautiful baby gifts) sent her girls over for a playdate with The Twofer.
I was determined to impress them.
Crafty Crafters
First, aprons and, because they all looked so darn cute, a photo!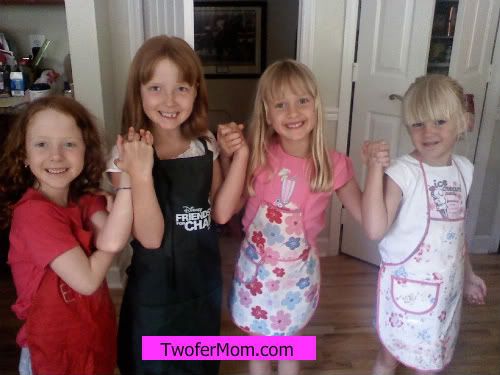 (See THAT's what I do well! I document any and all moments for the blog.)
Then I found a box of tongue depressers (wooden craft sticks), some glue, and paint. Ah-ha! Let's frame that cute photo!
Here are some of their creations:
Printing the photo to fit was a little frustrating, but I'm a PRO-fessional so I got it right. The crafter in me decided on a 'rustic' piece of twine would look best to hang our beautiful framed photos.
Here's the final product: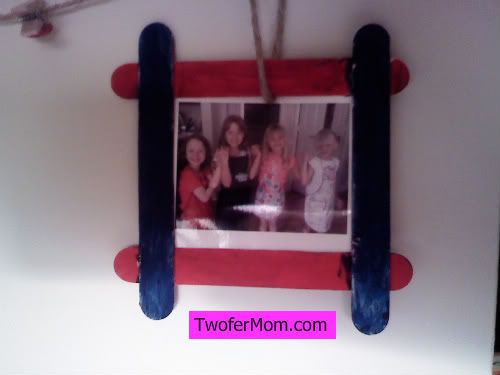 Is it the most creative? No. But I proved I can craft when I set my mind to it.
Janine
For more crafty blog posts see...
Make your own American Girl accessories