Monday, August 23, 2010 at 09:00AM
I cannot take credit for this idea.
Only a pair of grandmas (listen up Sugar and Rachel) could come up with something as exciting, fun, and best of all inexpensive as this!
Gift From Grandma
Each year we head to the Jersey Shore early in the season. My mom and my aunt get there before us and usually they arrive the weekend of the city-wide yard sale. Each year we get there and they have purchased a collection of gifts (knick-knacks) for each child.
The kids are thrilled. They love gifts, they love surprises, and, as anyone who's ever brought home birthday party goody bags can attest, they love gobs of platic and paper crap.
Grandma's Yard Sale
This year the grandmas did something different.
They laid out each item along the porch steps of the beach house. Items were marked with a price that varied from 1 cent to 8 cents, and each child was given $.20 in pennies.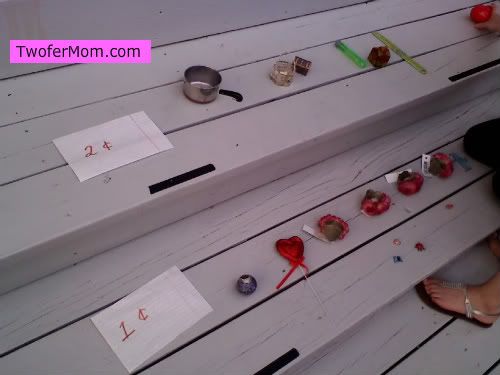 We explained to the kids they can only purchase 4 items so they need to budget wisely and take their time to look over all the items before making a decision.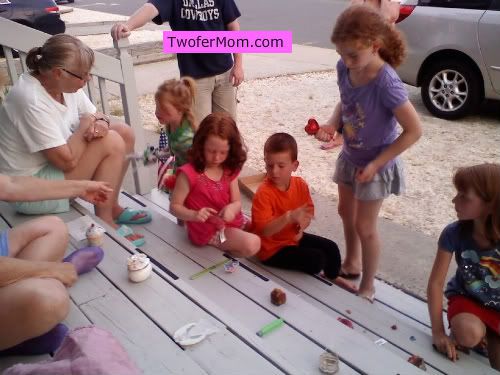 The simple exercise of laying out the items, pricing them, and allowing the kids to shop made them really appreciate the 'gifts'. I liked it because the Twofer were learning something about the value of money. The grandmas loved watching the kids' reaction ("Oh this plastic rose is soooo beautiful Grammy!") and everyone had a good laugh at how exciting a pile of junk and some pennies can be.
Crap is still crap but some crap is worth keeping
By the end of the week everyone's purchases were still just crap to me, but the kids seemed to keep them organized. They had spent money on them afterall! So it all came home with us...until our next yard sale.
Janine
For more posts on the Jersey Shore and the Beach see: