Thursday, March 18, 2010 at 12:37PM
Lately I've been joining teams that test washing machines, cell phones, and other consumer products. I enjoy those teams and enjoy sharing my experience with you. This team is a little different.
Today I declare myself member of a team that started on July 23, 2007.
I'm not a member of the club, but I am a member of the team.
You can join the team too.
It doesn't cost any money.
There is no uniform.
There is only awareness, openness, love, support, courage, and most importantly
hope.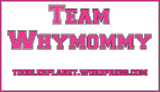 Team Whymommy
Click the image above to find out more.
Janine
tagged
blog friends,
cancer,
illness,
whymommy
in
a better me
Email Article