Monday, February 8, 2010 at 09:00AM
So, I need your help.
Everyone get together and think REALLY HARD about the snow storm coming this way this week and THINK about it disappearing! PLEASE? Cause I really want to make it to this: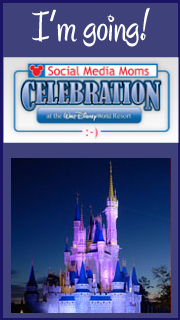 I promise lots of good stories including bickering between me and the Mister as I tell HIM what he can do Friday when I'm in a conference room (since the ONLY reason this family even gets to go to Disney is because I'M GOING TO BE IN A CONFERENCE ROOM), plus the misadventures of the Mister and the Twofer as they explore a Disney park (THAT I CHOOSE because I don't want to miss out on certain parks) on their own on Friday (when I'm in the conference room all day).
Now here's the thing...I'm actually really excited for the Disney Social Media Moms conference and here's why.
1. Guy Kawasaki - Co-Fouder of Alltop, author, and guru of all things Mac and online. I've heard a lot about Guy but never had the opportunity to hear him speak so this should be really cool.
2. Motivational Speakers discussing "social media, work-life balance, entrepreneurship, with a ROFL comedic ending" - I have no idea who or what exactly but I can tell you that I need a little refresher in all of these including the comedy. Life in 30 inches of snow is starting to get stale.
3. Bloggy friends - I can't wait to meet some of these online friends for the first time and to reconnect with others. To follow along with other people attending, use search.twitter.com and type in #DisneySMMoms.
NEEDED - more Disney Advice!
Last year when we surprised the Twofer with a trip to Disney for their birthday we only toured Magic Kingdom. I had tons of questions then and you guys were great with answers.
Now we have the opportunity to explore Epcot and Hollywood Studios so again, I have questions. Of course, this is sorta last minute so I've shrunk down the list.
1. If you had to choose would you pick the IllumiNations fireworks at Epcot or Fantasmic at Hollywood Studios?
2. If you had to choose one park to miss out on exploring with your family, which would it be? Epcot, Hollywood Studios, or Animal Kingdom?
3. Which countries at Epcot would you suggest we target if we have time?
4. How cool is the monorail??? Now that we finally get to try it? (ok, this is a rhetorical question but I'm so excited!)
5. Flipflops and bathing suits in February? It's looking like it will be 60s at best. Are the pools at the Polynesian heated? Or should I not even bother to pack them...
Thanks for all your help!
And keep wishing that next storm away :).
Janine