Monday, December 7, 2009 at 11:00AM
Advent Calendars - fun or stress?
My sister-in-law gave us a beautiful Advent Calendar box
years ago that has brought lots of smiles...and some dread. Each Thanksgiving I realize that December 1st is right around the corner and I have to find time that weekend to run out and find stuff to put into each little box.
In the past I've done candy, stickers, temporary tatoos, play jewelry, erasers, and even notes to be redeemed for larger items that don't fit in the boxes like snowman cups, pencils, popcorn balls, and more.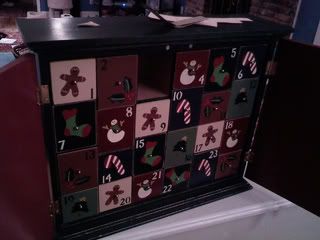 We don't need any more stuff...
This year in an effort to cut back on expenses AND cut back on the stuff, I decided to fill our Advent box with little notes...love notes. Some say nice things to the girls. Other notes suggest activities we can do that night like read a holiday story together, watch one of the recorded holiday shows, or even bake an apple pie.
But we can always use love
To my surprise the Twofer have really enjoyed the notes so far. Sure, they love it when the notes promise something big...like a trip to the ice skating rink, or that apple pie. But I have seen big smiles when they open the notes in the morning that say, "We are so happy and lucky to have you as our daughters". They have even written a few notes for each other.
So, this holiday season don't be afraid to give something other than stuff. Give your time, a new experience, and a heaping pile of love. You may be surprised that no one misses the stuff.
Janine