Wednesday, December 23, 2009 at 10:01AM
I am eating one of these homemade ice cream sandwiches right now...
as I type this...with 8 fingers.
This is by far one of my best ideas and of course it comes to me when I'm under a little bit of stress. Because my two favorite food, chocolate and ice cream always come to me when I'm stressed.
The chocolate cookies part of the ice cream sandwich
Last week I had to make 3 dozen cookies for teachers at school - something I volunteered for..don't ask. Of course I forgot to pick something cookie-ish at the store, forgot to buy even the break & bake ones. And my go-to... my supply of chocolate chips was very low.
I pulled out a Hershey's Choclate Lover's cookbook I inherited from my mother (along with the love of chocolate...DARK chocolate please) and inside was a recipe for chocolate cookies using Hershey's Special Dark
cocoa which I did happen to have!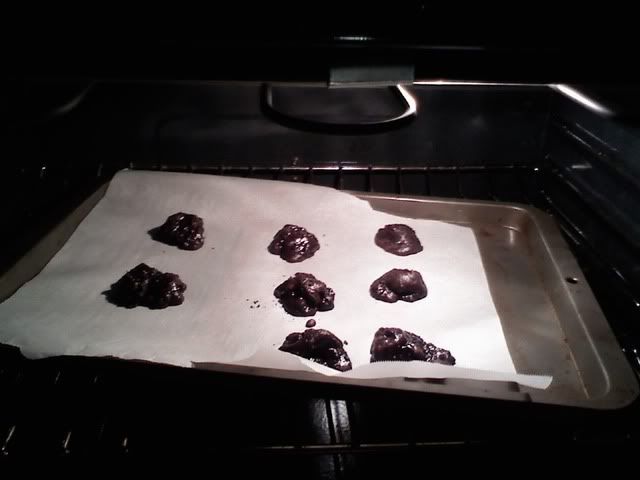 mmm chocolate cookies baking
Here's the recipe minus the chocolate chips and the walnuts:
Beat about 2 minutes (or until well blended) the following:
3/4 cup butter softened
3/4 cup granulated sugar
1/2 cup packed brown sugar
1 tsp vanilla extract
______
Add 2 eggs and beat well.
_____
In a separate bowl stir together:
1 3/4 cups flour
1/2 cupe Hershey's Special Dark Cocoa
3/4 tsp baking soda
1/2 tsp baking powder
1/4 tsp salt
Gradually add to the sugar/butter stuff and beat until just blended. Drop spoonfuls onto cookie sheet and leave enough in bowl and on mixers to lick cause this batter is yum!
Bake 7 minutes or until set at 375 degrees. Cool on rack for a bit.
Add ice cream and make a sandwich!
I then realized these would be REALLY good with some vanilla ice cream inside!
Edy's Vanilla Ice Cream
And, I was right!
This weekend even 20 inches of snow and temperature in the 20s was not keeping me from my two loves, chocolate and ice cream. We whipped up a batch of these goodies and wouldn't you know, they are almost gone!
Home made ice cream sandwiches - yum!
So, while it's obvious that I'm not a real baker, nor a good photographer, you do know that I tell the truth. And these were AWESOME and very easy to make! You are welcome.
Janine