Monday, October 26, 2009 at 12:00PM
This weekend I got all crazy domestic and stuff with pumpkins.
Not only did we head to the local farm IN THE RAIN (roughin' it) to pick out pumpkins...
but we carved them right away!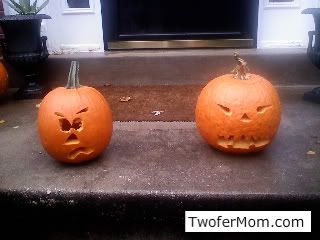 twin carved pumpkins for Halloween
AND then I sorted through the ewwy, gooey, messy, sticky pumpkin seeds so that I could roast them!
The Trick to Roasted Pumpkin Seeds...
I've tried this before and it just didn't work. I found this great recipe and the key is the simmer them in water for ten minutes before tossing them in the oven.
roasted pumpkin seeds
They came out perfect!
Not only that, they made for a great snack when I paired them with farm-picked apple slices and a sharp cheese. I'm so freakin 'Martha' sometimes I scare myself. (And then I HAVE to take pictures and blog about it.)
Perfect Fall Snack: roasted pumpkin seeds, apple slices, sharp cheese
Next up? Apple pie with my Grandma's special recipe.
Happy Fall!
Janine
Did you know we got married on Halloween? See me squeeze into my wedding gown last year for our 10-year anniversary.